I think the first moment ... long ago, long before I knew the name "Abernethy" and so forth ... that started me down the karate path I'm on now ... the path that goes through this forum rather than "just punch, kick and block" post-war karate, was when I saw a certain photo regarding the shuto-uke.
Shuto-uke.
You know, "open-hand knife block", as people would explain and demonstrate it.
That's the way the "old school" masters of yore did it* ...
That's the way everyone was doing it nowadays* ...
(*or most people ... the ones I met and talked to anyhow.)
And that's the way the manuals told us to do it ...
Okay, I could have lived with that and been happy ... but ...
... then I saw this photo.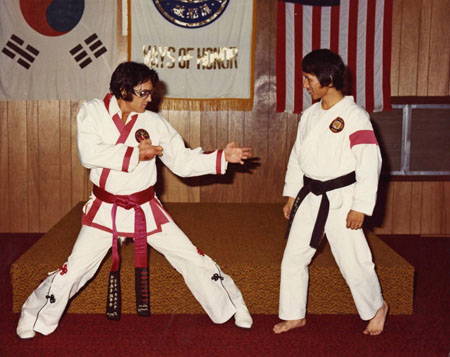 ... oh wait, not that one (sorry, couldn't resist) ... this one:
I don't know who the two individuals are (sorry) but ... when I saw this photo a little light-bulb went on in my head and I thought "yeah!!  That makes a lot more sense."  
Did any of you have an "ah-hah!!" moment?  Care to share?