Kusanku/Kosokun/Kanku Dai is a pretty common and popular kata among Shuri-Te lineage styles, so I figure some people on this board might find this interesting. Most styles that practice these kata include the movement that Nagamine Shoshin Sensei is demonstrating in the photo, below, or they do manji-uke.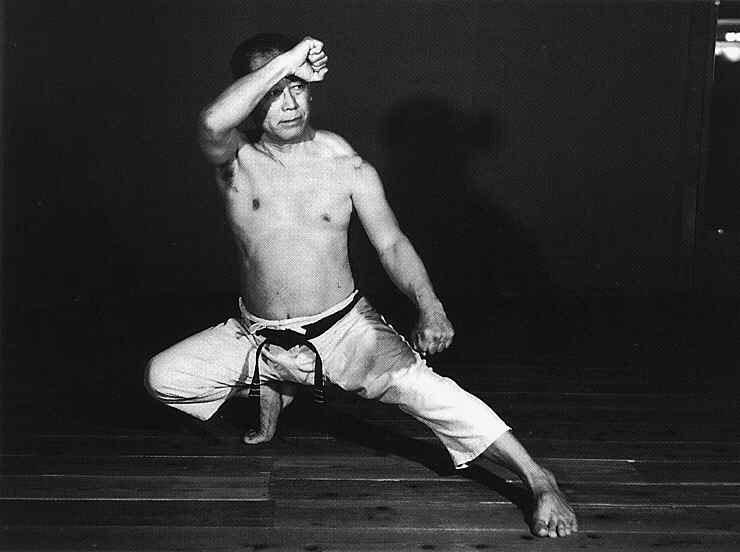 What's interesting about this, to me, is that my style does not use either position in Kusanku Dai. Instead, we do a lunging jodan-uke (high receiver) and gedan-tsuki (low thrust), which I haven't really seen from styles that do not come from Chibana Chosin. You can see it in the image, below. It makes me wonder if he changed it, or if Itosu simply taught it to him differently?
Either way, I found that the movement felt very natural and powerful when I first learned the kata, but it took me a bit to figure out why. After playing with it, a bit, I realized that it was almost exactly the way I was taught to do kuchiki-taoshi (dead wood drop) in judo. To be fair, I'm not a judo expert, and I didn't get to work the technique very long before the IJF banned it, but I feel that it works out pretty well. The next movement in our kata is a crossing of the arms, which can apply a quick joint dislocation to the knee, if you hit it hard before the opponent has a chance to recover from their fall. I made a short video of it, since it was kind of hard to explain:
You can also use your leg to apply the takedown by driving your knee into theirs, but that's a more advanced approach, and harder to get right.